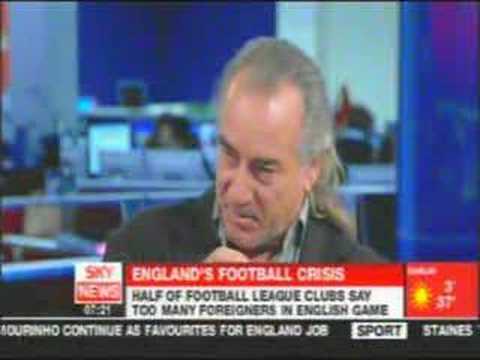 A week ago, I posted about the gap in skills between British footballers and their continental counterparts. The gap never used to be so big: Franny Lee and Alan Ball were absolute midfield wizards in their day, capable - in their own fleet-footed way - of influencing games just as much as Tardelli or Beckenbauer. But these days the gap seems as wide as a Tony Adams shot on goal. 
When Croatia technically outclassed England in November 2007, a debate looked to be opening up on the future of skills training: whether reforms could be made at the grass roots level to bridge the gap between UK and continent. Many ex-players suggested the problem lay with moving kids up to adult-size pitches too early - when aged just 11. Whereas the continentals were still honing their skills on smaller pitches, England's youngsters were forced to lump the ball forward in the hope of mounting attacks on a monster playing surface. That was hardly conducive to developing tight ball control and dribbling under pressure.
Worse still, the English method did not - and still does not - encourage accurate shooting. As
Chris
Waddle said when interviewed by the BBC - and he should know! - "When I was a kid playing on a full-size pitch, it was so easy to score. The keeper was so small that you just aimed high and they couldn't reach it." Fine when you're playing little Johnnie Webb of the fifth grade, not against 6'4" Peter Schmeichel or 6'6" Ed Van Der Sar! 
Today, by sheer chance, I unearthed an even deeper analysis conducted by former Liverpool midfielder Craig Johnston. The first Big Aussie name in the English game, Johnston did a live interview just two days after England's collapse against Croatia, the video clip of which is provided here. In his affable style, Johnston passionately explains the reasons why he feels England's youngsters are failing. He also controversially claims that the FA blocked publication of his report into young players' skill training because of its sheer boat-rocking potential. 
As far as we know, the FA have not acted on his report to this day. I'd love to see the evidence behind the explosive comments he makes.