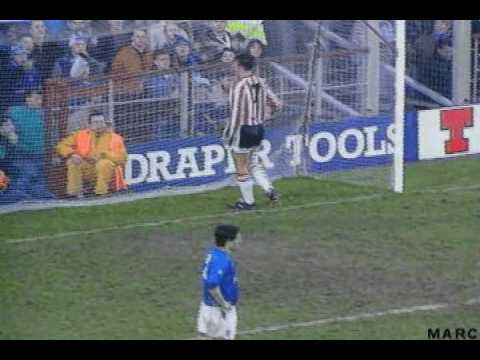 Matt Le Tissier.
The mere name is enough to excite even those without a single Southampton connection. On his day - with the obvious exception of back-tracking - was there anything this footballing genius from the Channel Islands could not do? 
Numerous videos of the man nicknamed "Le God" are circulating on the internet, and I have selected the most comprehensive one for viewing here. When irate fans bemoaning England's recent footballing lesson against Italy (and sweating over the impending second lesson next month) lambast England's lack of technique, the magical erstwhile brilliance of Le Tissier must be in the back of their minds. 
This is the man who once famously said in the days when the British transfer record was a mere seven million: "If you want someone to defend AND do what I do, they would cost about 25 million pounds." And more often than not, he produced the magic moments, dazzling dribbles and stunning shots to prove it. 
For the youngest fans here who never saw the best of him, prepare to be amazed. The first goal from open play shown in the video sequence sums up what this man is all about. Finding the space, dropping off the defense to a deep position, he waits to receive the ball, flicks it up not once but twice, and twists in a flash to lash it home across goal from 25 yards. 
Look too for the sheer accuracy of not only his penalties (of which he missed only one during his entire Southampton career) but for the outstanding placement of his free-kicks in a manner which would rival even the genius of
Gianfranco Zola
. Even from 25 or 30 yards, Le Tiss is able to find the exact corner of the net, even factoring in a vicious curl on the ball. 
Then there's the touch. The man can seemingly control any high ball within his reach, and instantly draw it away from a defender. Sometimes the result is a clean and crisp defense-splitting pass. On other occasions, as shown when he bamboozles Mark Wright of Liverpool, he is able to flick the ball back and forth away from his marker, repeatedly changing direction, and then pass a shot into the net with the confidence of a pro facing a pub goalkeeper. 
Then there's the goal against Norwich. It starts like a kid having fun on the ball, before morphing into a genuine act of footballing genius. The balance, the touch, the commitment, and sudden acceleration... it's total improvisation on the spot, and the result is stupendous. 
Obviously there are others, the old favorites, the dance and chip over Peter Schmeichel, and the even more astonishing effort against his former colleague Tim Flowers. 
Every Southampton fans page must have Le Tissier on it. That's why it's posted, right here, right now.