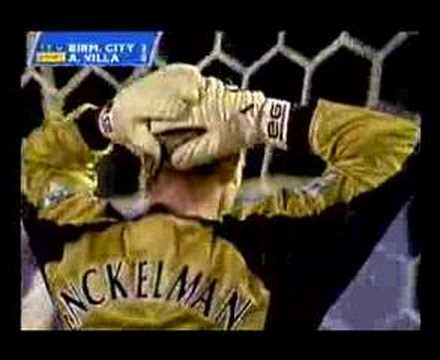 Come next month, Birmingham will have a much clearer idea if the Lee Clark Revolution can deliver them a return to the Premiership. September will also see the Blues mark the 10th anniversary of a fine Premiership memory.
The memory in question, of course, concerns the events of September 16th 2002, when the Blues, still celebrating their return to the top division in the summer, entered their first Premiership derby against their arch rivals from Villa Park. 
All but the most fervent City supporters seriously believed that Birmingham could turn the Villa over, especially as the visitors to St Andrews that day had been regularly pushing for Europe under a rejuvenated Graham Taylor. But all but the most fervent city supporters were in for an almighty shock.
The Blues stormed out of the blocks, taking the lead on the half-hour when Clinton Morrison tapped home following a dreadful clearance from Olaf Mellberg (yes, he did have a long existence before temporarily rocking England in Euro 2012). But what Blues fans remember most, of course, is the events of the 76th minute, when Mellberg again shaped to take a simple throw-in back to his own goalkeeper.
The unfortunate man between the Villa sticks that night was Pete Enckelman, who had an immensely tough task as it was in filling the giant gloves of the recently-transferred Peter Schmeichel. It should have been a simple, simple touch and kick upfield, but the Finn simply kicked thin air and watched in agony as the ball bobbled past him and into an unguarded net. 
To this day, it remains unclear whether Enckelman touched the ball. Steve Staunton wasted much energy in his ageing legs to chase down referee David Elleray and protest that his goalkeeper did not touch the ball - in an attempt to ensure the goal would not stand. Manager Graham Taylor, presumably after having shouted "Do I not like that!" felt Enckelman hadn't made contact and publicly accused him of not knowing the rules of the game! 
What was clear that day as it is now is that even Milton Keynes Dons supremo Pete Winkelman could have done better on that backpass. Perhaps even Pete Waterman could have - 10 years ago, next month.