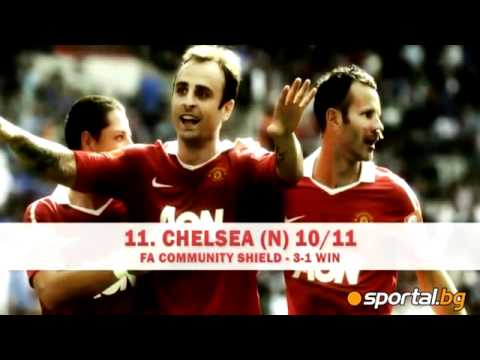 Like many things the player himself is capable of, on his day, this leaves me scratching my head. Why is there no real interest from any English club in keeping Manchester United's Dimitar Berbatov in the Premier League next season? I accept he hasn't played a lot of football over the last two years. But you must factor in the emergence of United's young contingent of players. Plus, something that Ferguson himself probably wouldn't openly admit to; Berbatov never really fitted in at Manchester United. After spending £30million on the former Spurs man, Sir Alex didn't get to grips with how to make Berba' really tick in United's favour.
Tottenham fans will recognise the problem straight away. For them everything good going forward seemed to resonate around or through the magical Dimitar Berbatov. United's many play makers share these duties and don't centre play around one individual, apparently. So why couldn't the Red Devil's help Berbatov to adapt so he would fit their style? Lack of patience, perhaps? He did still turn in some outstanding displays but those were few and far between. Not helped by a rotation policy which plays to the strengths of the regular first teamers, but unfairly expects so much of those not so confident or match sharp.

However, that doesn't seem to have answered sceptical Premier League manager's questions or quelled their concerns, and so Dimitar Berbatov is left in limbo. He's very unlikely to play for another Premiership side and considering what he could still potentially offer I am a little surprised. After all, why did Manchester United spend so much on him in the first place? He was one of the top scorers in the league over the two previous seasons. I think in a side where the team plays to his undoubted strengths, he could achieve those heights once again. But there aren't many takers at all, and all seem to be abroad. While if the right club or offer came in, I suspect Berbatov would enjoy the chance to show what United really missed out on.
The video included is probably him at his goal scoring best which United unfortunately didn't quite see enough of.