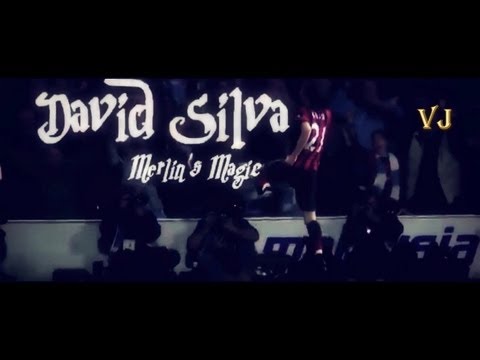 Manchester City continue to dismiss any suggestion of David Silva making a big-money move to La Liga - but will the allure of Madrid prove too big too much to resist for the Spaniard?
When David Silva nodded Spain ahead against Italy in the final of Euro 2012 this Sunday, his position as one of the hottest players on the planet was confirmed.
After all, it was only four years ago that striker Fernando Torres lobbed the Iberians into the lead against Germany, signalling his true arrival as a world-class star on the biggest international stage.
As such, the furore around Silva and his future at the Eastlands is only likely to increase.
Half way through a four-year deal at the club, in two seasons at Manchester City, the attacking midfielder known affectionately as Merlin has contributed ten goals and 27 assists, with the club claiming an FA Cup and Premier League title along the way.
His exploits were always likely to grab attention from other clubs across Europe, but Roberto Mancini was no doubt pained to see declarations of interest from one particular club – Real Madrid.
After all, over the years few players have been able to resist the overtures of La Liga's big two in Barca and Real.
In the past, few would have expected Cesc Fabregas to ever depart Arsenal where he enjoyed both success and adoration in near-equal measure. Yet, when Barcelona came calling, the attraction of a La Liga return to one of the big two proved too much.
The same could be said of Xabi Alonso, who had previously opted against a move from Liverpool to Juventus, but gladly swapped the Reds for Los Blancos a couple of years later.
Manchester City may have one trick card up their sleeve though, with reports indicating that the owners may be willing to offer up to £220,000 a week in wages to David Silva – provided he signs a contract extension running to 2016.
Such a deal may prove attractive – Silva would enjoy a £70,000-per-week boost to his pay – but as City have found out, to their detriment in recent years, money can only get you so far.
Kaka famously snubbed the offer of a big money contract at Manchester City, to move to Real Madrid - the biggest club in the world.
Despite their best efforts, Real Madrid enjoys a level of prestige and history that cannot be matched by Manchester City just yet.
More importantly, Silva may be tempted by a return to Spain, his homeland, and the chance it provides to cement his position in the national team set-up.
The midfielder was something of an ugly duckling in the Euro 2012 final, as the only player in the starting line up to not play for Barcelona and Real Madrid.
With the chance to establish himself as a Spanish legend and ample wages along the way, City could find themselves with a fight on their hands, the longer this drama continues.
Do you think David Silva will move to Real Madrid?