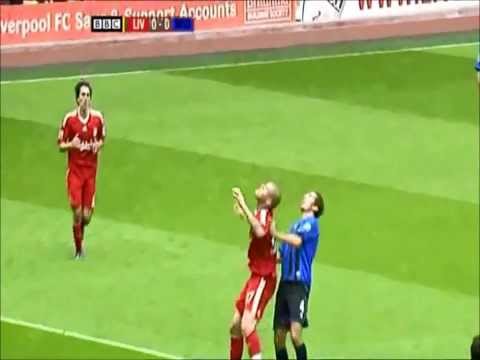 Brendan Rodgers may be eager to keep hold of the Slovakian international, but could Martin Skrtel be the perfect reinforcement for City's defence?
The newly-appointed Liverpool manager may be eager to dispose of £30 million striker Andy Carroll, but a recent interview revealed that he was somewhat less eager to lose another star.

Plucked from obscurity as a youngster by Rafa Benitez, Martin Skrtel quickly emerged as the natural successor to Sami Hyypia and a mainstay of the Reds' defence over the coming years.

However, the departure of the Spaniard, coupled with a few barren years for the Merseysiders, has seen the Slovakian seemingly grow discontented.

No more is this more evident than in the fact the player has failed to sign a new contract. And with just two years left on his current deal, a number of clubs are rumoured to be circling the player.

Speaking during Liverpool's tour of the US though, manager Brendan Rodgers dismissed such suggestions.

"I've heard nothing from any other club. Martin has been fantastic. He seems happy and contented," he said.

"He has fit into my plans and ideas. I will fight as hard as I can to keep the players that I want here and Martin is one of them."

Yet, these comments contradict those of Skrtel himself who admitted last week that a number of offers had been made for his signature.

"At the moment I am a Liverpool player and what happens in future in football you can never foresee," he added, cagily.

While the likes of Juventus could offer plenty of glamour for the player, a move to Manchester City could prove a more suitable one.

Firstly, as someone based in Liverpool, a move or commute to the nearby city of Manchester would reduce any upheaval linked with a transfer.

Secondly, City are likely to offer Skrtel improved contract terms for his services with better win bonuses and an enhanced weekly wage to boot.

Finally, Manchester City could be the perfect club for the Slovakian to claim major honours, with the Blues eager to compete both domestically and in Europe.

For City meanwhile, the deal looks like a sound move, with Skrtel available for less, given how little is left on his contract. 

More importantly, with years of experience under his belt at Liverpool, the player will be ready for action come the kick off for the new season.